Labiaplasty
Boca Raton, Palm Beach Florida
---
Childbirth, aging and gravity can change the appearance of the female genitalia including the labia minora and majora, clitoral hood and perineum. These changes include: stretching and laxity of the vaginal wall and the labia minora, as well as sagging of the labia majora and mons pubis. Labiaplasty is a procedure performed at Ennis Plastic Surgery to correct for long or uneven labia.
About Labiaplasty with Plastic Surgeon, Dr. Ennis
About the Labia
The female labia are described as the inner and outer labia, or minora and majora (labia meaning lips). The labia minora are the thin, smooth tissue that surround the vagina. The labia majora are the full, fleshy tissue that surround the labia minora, typically covered in hair.
Are you a Candidate for Labiaplasty?
What can Labiaplasty do for you?
Long labia minora may negatively impact intimate situations and even exercise, causing embarrassment and may cause pain while exercising or intercourse. In addition, elongated labia minora can limit a woman's ability to wear certain bathing suits and leggings, creating an unwanted bulge. Fortunately, a labiaplasty surgical procedure can correct and restore the appearance of the labia to a more youthful and comfortable appearance.
To learn about labiaplasty, please read the guide below or contact Ennis Plastic Surgery at 561-405-9020 to book a consultation or ask us a question. We are here to help you get the look you desire.
The goals of labiaplasty surgery include:
Increased self confidence
Improved appearance of altered or asymmetrical labia minora
Restoration of more youthful appearance of the female genitalia
Improved comfort during exercise and intimate situations
Improved ability to wear tight fitting clothing, including bathing suits and leggings
Labiaplasty Photos (before & after)
Actual Patients of Dr. Ennis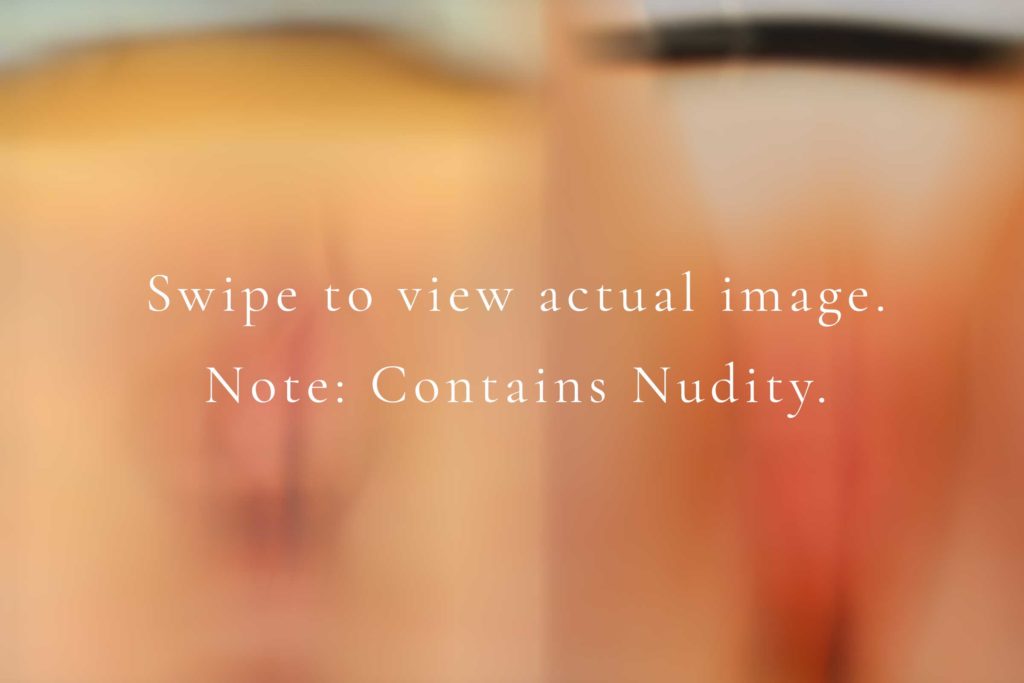 Content Nudity Warning
Actual labiaplasty surgery before and after photo from Dr. L. Scott Ennis.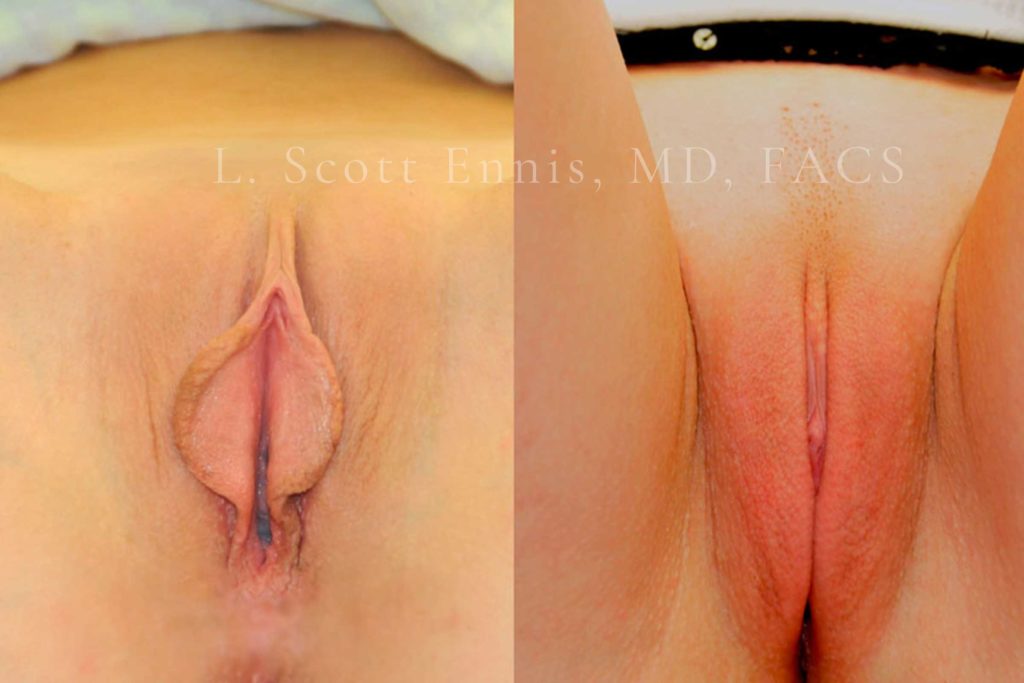 Labiaplasty surgery before and after.
Actual labiaplasty surgery before and after photo from Dr. L. Scott Ennis.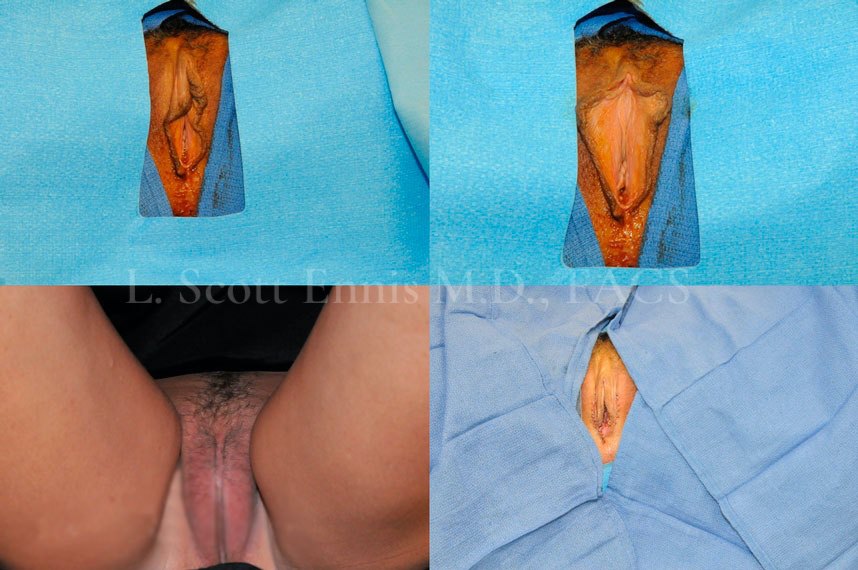 Labiaplasty Before & After Dr. Ennis
Labiaplasty
Labiaplasty is a surgical procedure that is meant to change the size or shape of the labia minora, usually making them smaller or correcting for any asymmetry. It is designed to sculpt the external vaginal anatomy by correcting for long or uneven labia. Labiaplasty can also be performed on the labia majora, the outer fleshy lips surrounding the vagina.
Many women desire that their labia minora be reduced to the length of the labia majora or even shorter than the labia majora. Many women also desire that the darkened skin of the labia minora be removed, which gives a pinker and more youthful appearance. There are two main techniques used to address the appearance of the labia minora: the trim method and the posterior wedge method.
Dr. Ennis explains the Trim Method vs the Posterior Wedge Method
Types of Labiaplasty
The trim method:
With the trim method, the surgeon "trims off" a long strip of the labial edge, removing the darkened, lengthy and unwanted tissue. The newly cut edge is sutured for prompt healing. This trim method achieves labial reduction, removing the thick and darkened region of tissue with a smaller and more youthful edge. It also removes the length of the labia minora so that it is positioned more appealingly in the natural folds of the labia majora.
This technique is recommended for women who have uneven or discolored outer edges. In addition is an excellent option for women who are also undergoing a clitoral hood reduction, so that only one incision is needed for both procedures. This procedure does leave a surgical scar that can be sensitive. In addition, it leaves the labial edge with a pinker appearance, which some women do not want.
The Posterior Wedge method:
A second method for labiaplasty surgery is the Wedge or "V" method. This technique reduces the size and length of the labia minora by removing a "V" shaped wedge of unwanted tissue. The surgeon creates an incision and removes a wedge-shaped section of labial tissue from the middle or back third of the labia. Then, the top and bottom sections of the labia are sutured back together.
This technique preserves the appearance of the labial edge, giving a more natural appearance and better preserves the sensation. This more commonly used procedure is for women who want to maintain the appearance of the labial edge and youthful appearance, but have asymmetry or excessive labial tissue.
Labia majora labiaplasty:
There are also options for labia majora labiaplasty, including reduction or augmentation. Because of a growing trend toward cleanly shaven female genitalia, some women are concerned about the appearance of the labia majora.
Over time, the labia majora can become wrinkled and deflated. Some women benefit from augmentation to fill and enhance a deflated looking labia majora. For wrinkled labia majora, there is a lack of sufficient fullness, and skin laxity. These situations benefit from a fat transfer and even skin tightening to the labia majora. On the other hand, some women benefit from a surgical reduction to make the labial majora smaller and tighter looking. A reduction can be achieved through liposuction to remove excess fat in the labia majora and surrounding pubic region.
What to Expect during Labiaplasty Procedure
The labiaplasty procedure takes one to two hours to complete. The patient is given anesthesia to ensure comfort and safety during the procedure. Patients can expect to experience mild swelling and mild discomfort for the first several weeks after surgery, but most women can return to work activities within one week. Vigorous exercise and sexual intercourse is not appropriate for approximately six weeks, in order to ensure proper and complete healing of the labial tissues.
Dr. Ennis's experience and expertise allows for beautiful results and preservation of sensation to the labia minora. When performed by an inexperienced surgeon, many women complain of abnormal appearance or lost sensation. However, Dr. Ennis approaches this procedure from both a cosmetic and functional approach. The overall appearance is improved, while attempting to keep sensation intact.
After undergoing this procedure, women report increased self-confidence during intimate situations, as well as relief from the discomfort that was previously felt during exercise. In addition, women are able to wear tight-fitting clothing such as bathing suits and leggings more comfortably.
The Ennis Plastic Surgery Difference
Ennis Plastic Surgery, you can be confident in the modesty, privacy, and personal attention you will receive from all levels of clinical care. Your journey will begin with a one-on-one consultation with our renowned cosmetic vaginal surgeon, Dr. Scott Ennis.
Dr. Scott Ennis is a leader in the field of reconstructive cosmetic surgery for women. He has a known reputation for achieving beautiful and natural results with minimal scarring. Dr. Ennis earned his medical degree from the University of Alabama at Birmingham, achieving the award for Best Intern and Outstanding Chief Resident. He then followed a plastic surgery fellowship at the University of Virginia, earning honors for his work in plastic surgery research.
Dr. Ennis is known for achieving beautiful and natural looking results in all of his cosmetic surgical procedures, including labiaplasty. He uses the most advanced techniques for minimal incisions and minimal scarring with all of his procedures.
If you are interested in discussing how a labiaplasty can impact your physical appearance, please contact us to set up a consultation.
Actual Patient of Dr. Ennis