Male Facelift
Boca Raton, Palm Beach Florida
---
Facelift surgery is not just for women. In fact, men in increasing numbers, are having cosmetic procedures to restore a more youthful appearance. The facelift, with or without accompanying procedures like eyelid surgery, chin implants and skin rejuvenation, is a very effective option that yields a lasting and natural result and requires only a small amount of downtime. The facelift for men includes preserving sideburns and hair lines and concealing incisions so the final result is a natural enhancement without any signs that surgery has been performed. As a restorative surgery, a facelift does not change the fundamental appearance of your face, rather it addresses areas like sagging jowls that can make you appear older than you are or overly tired and not engaged.
Watch Dr. Ennis in the Operating Room performing a Facelift
The loss of youthful contours in the face is a natural part of aging and is often driven by heredity, stress and prolonged exposure to environmental factors like the sun. Men who have gained or lost weight might also notice changes in facial contours.
To learn about a facelift, please read the guide below or contact Ennis Plastic Surgery at 561-405-9020 to book a consultation or ask us a question. We are here to help you get the look you desire.
Male Facelift Photos (before & after)
Actual Patients of Dr. Ennis
Male Facelift
Facelift
Male Facelift
Upper Bleph, Facelift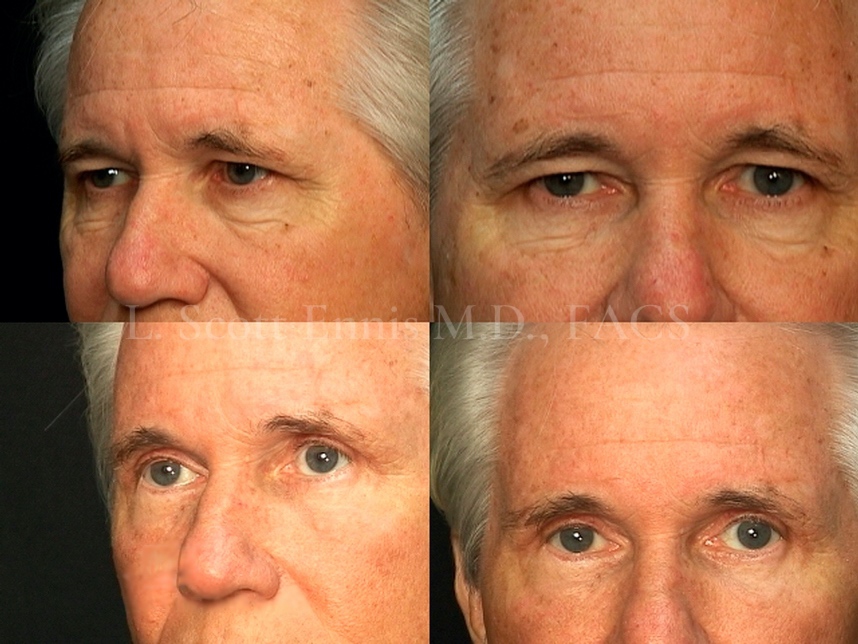 Male Facelift
With Upper Blepharoplasty (eyelids)
Male Facelift
With Upper Blepharoplasty (eyelids)
Facelift surgery can improve the visible signs of aging like:
Deep creases below the lower eyelids
Deep creases along the nose that extend down to the mouth
Sagging in the mid-face and along the jawline
Fat that has fallen or disappeared
Loose skin and excess fatty tissue that causes the appearance of a double chin
Loose skin below the chin that causes what's called the turkey neck
Get to know Board Certified Plastic Surgeon, Dr. Ennis
The Ennis Plastic Surgery Difference
At Ennis Plastic Surgery, we are dedicated to your journey of personal improvement and renewed shape. We promote unparalleled dedication to client safety and comfort. Your facelift procedure is performed in a surgical grade operating room, and you are provided the most up-to-date anesthetic options. During and after your procedure, our clinical staff will monitor your recovery for physiologic body function, reduced discomfort, and appropriate healing. You can be assured that our medical team will provide expert clinical technique with compassionate care.
If you are interested in discussing how a facelift can impact your physical appearance, please contact us to set up a consultation.
Actual Patient of Dr. Ennis