Labiaplasty Revision
with Dr. L. Scott Ennis in Boca Raton, FL
---
It's become common place to talk about the latest breast augmentation or nose job or maybe even the facelift you had, but there's a more popular procedure on the rise that no one really talks about. Labiaplasty, a surgical procedure that makes the lips of your vagina look and feel better, is growing in popularity all over the world. And for good reason.
Many women are interested in getting a labiaplasty after pregnancy and childbirth, because they've never been happy with their labia or for other medical reasons. At times when women get a labiaplasty it does not always turn out the right way. This is why patients contact Dr. Ennis for a labiaplasty revision surgery to correct issues caused by a previous procedure.
About Labiaplasty with Plastic Surgeon, Dr. Ennis
Why would you need a labiaplasty revision?
But with so much excitement surrounding this procedure, there's also a downside. Certain cosmetic surgeons are performing labiaplasty without really knowing the correct way to give good results and prevent a loss of an important sensation in that area. And because a labiaplasty involves such a personal area, many people aren't talking about any bad results. These less than desirable results lead women to seek out surgeons to fix their labiaplasty procedures. When this occurs, it's called a labiaplasty revision or labiaplasty reconstruction.
About Labiaplasty Techniques
There are two techniques that can be performed during a labiaplasty. The trim procedure uses a linear incision to remove excess skin and make the labia minora smaller and more symmetrical. However, this procedure also removes much of the skin along the front portion of the labia which is the most sensitive and often leads to a loss of sensation.
A better procedure and one that we prefer is known as the posterior wedge and uses a V-shaped incision to contour the labia. With the posterior wedge procedure, there's much less chance that you'll lose any sensation in that area.
To learn about labiaplasty, please read the guide below or contact Ennis Plastic Surgery at 561-405-9020 to book a consultation or ask us a question. We are here to help you get the look you desire.
Labiaplasty Photos (before & after)
Actual Patients of Dr. Ennis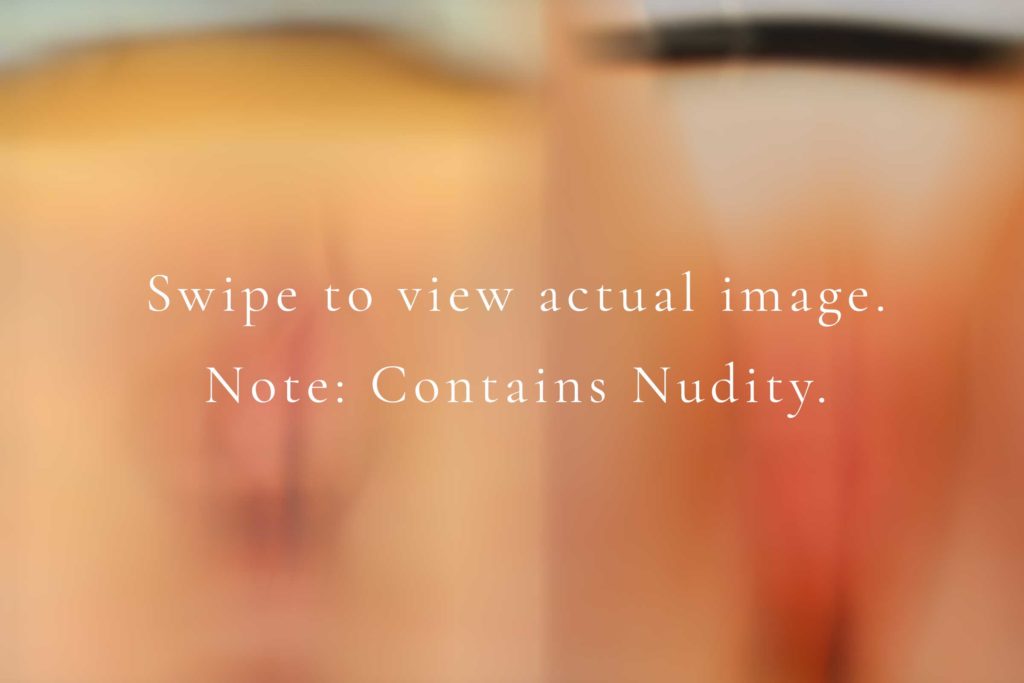 Content Nudity Warning
Actual labiaplasty surgery before and after photo from Dr. L. Scott Ennis.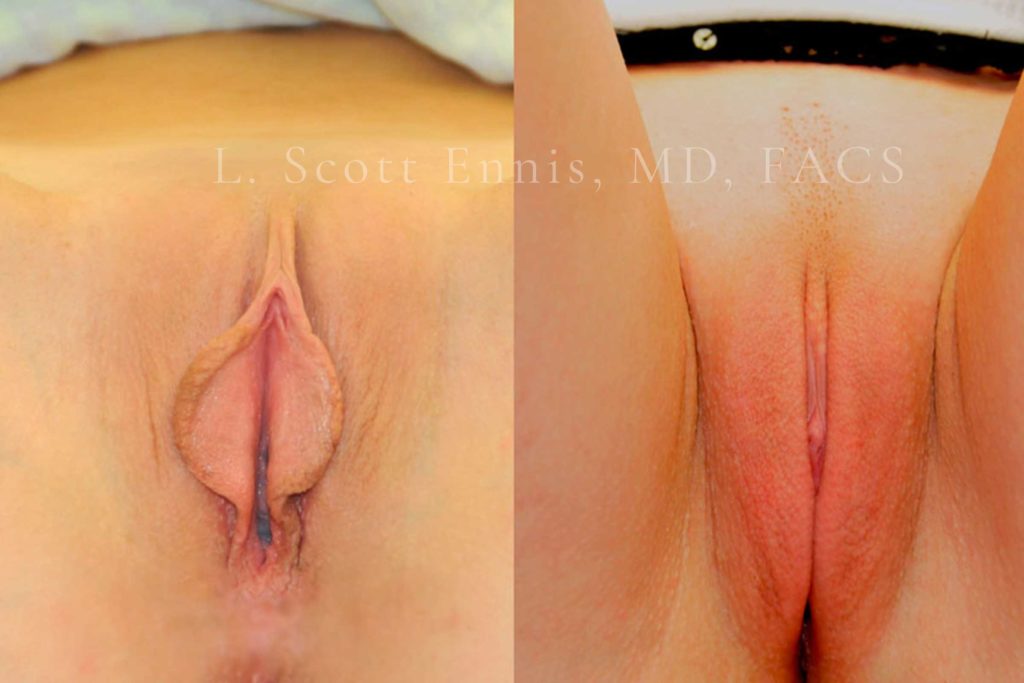 Labiaplasty surgery before and after.
Actual labiaplasty surgery before and after photo from Dr. L. Scott Ennis.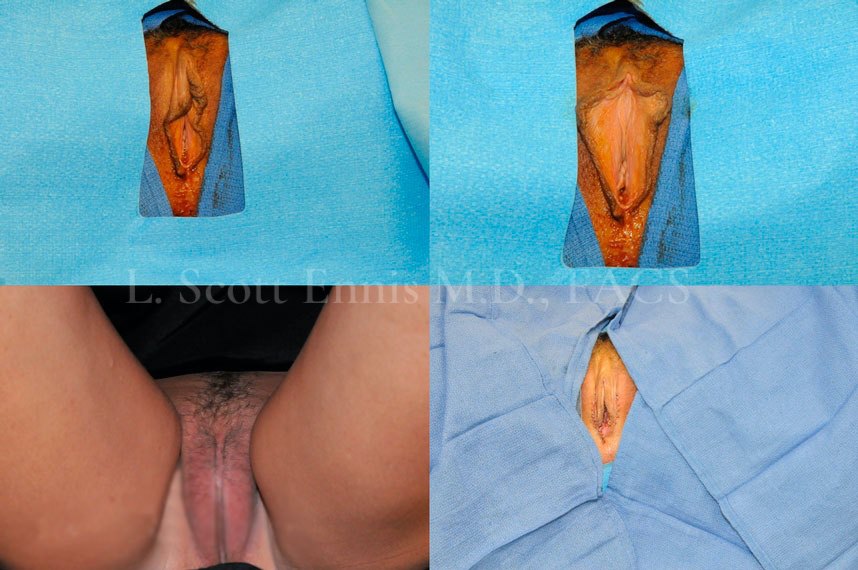 Labiaplasty Before & After Dr. Ennis
Labiaplasty
When Labiaplasty Goes Wrong
There are many reasons why someone would want to fix a bad labiaplasty. A women's dissatisfaction with this delicate area can lead to medical issues that cause pain and problems with self-esteem or confidence. The problems usually stem from experts who didn't perform the procedure correctly. There are three reasons why someone may be unhappy with their labiaplasty and why their procedure may need a big fix.
#1 Removing Too Much Tissue
We know, we know. Ouch. But this is a common problem that happens when untrained or inexperienced surgeons trim too much off during a trim procedure. This type of procedure trims the labia minora and can cause a loss of sensation since the feely good part is located on the front of the labia minora. It may also cause a different look because of the loss of the natural edge. If too much has been trimmed off, it can be difficult if not impossible to restore.
#2 Scarring
Leftover scarring from a previous procedure can do a lot more damage than you think. The soft tissue of the labia and vagina opening are supposed to give and expand and be able to relax. Scarring can cause pain during sex or can look or feel unfavorable leading to many problems if not revised.
#3 Unfinished Business
A woman may also want to have a revision or reconstruction surgery if the problem wasn't taken care of the first time around. Perhaps they left too much skin or didn't leave your labia symmetrical. If something wasn't completed 100 percent, it's definitely in need of a redo.
Dr. Ennis explains the Trim Method vs the Posterior Wedge Method
Getting the Labiaplasty Right
It's always important to know your body and seek help when something doesn't feel right. There's a good chance you're dealing with something that can and should be fixed. The most important step for your labiaplasty revision surgery is to make sure you have a surgeon that is board-certified but that has also performed a labiaplasty procedure multiple times.
The next step is to find a surgeon that not only meets the above characteristics but also allows you to communicate freely about your thoughts and hopes for your surgery. Dr. L. Scott Ennis a Boca Raton Plastic Surgeon knows that it's important to give you the trimmed look you want without losing the sensation in the area. He's truly an expert in the field and values your opinion and your time.
The Ennis Plastic Surgery Difference
Dr. Ennis is an expert at minimally invasive labiaplasty surgery, creating a designer vagina look. He has been named one of America's Top Plastic Surgeons, one of the Ten Best Plastic Surgeons in Florida based on patient reviews and RealSelf's Top 100 cosmetic surgeons in the country. Dr. Ennis and the Ennis Plastic Surgery team in Boca Raton, Florida are ready to help you through your labiaplasty revision surgery so that you can finally get the results you've always wanted. They often have patients fly into Boca Raton Florida from around the world.
If you are interested in discussing how a labiaplasty revision can impact your physical appearance, please contact us to set up a consultation.
Actual Patient of Dr. Ennis