Double eyelid surgery is a popular form of plastic surgery that is used to correct the appearance of the eyes. The goal of the procedure is to ensure that the eye both operates correctly and is visually attractive. To accomplish this, the surgeon will create a crease in the eye to give the eye a larger and more open look.
Procedure
The procedure for double eyelid surgery is to essentially create a crease in the eyelid where one does not exist. The traditional suture method is accomplished by burying permanent, non-reactive sutures under the skin which results in a fold in the eye. The patient will be numbed and sometimes sedated for the procedure. It is usually accomplished in about 30 minutes. Most people feel little to no pain immediately following the procedure and are instructed to rest and add ice to help with pain and bruising. With proper technique, this method yields beautiful results and a speedy recovery time.
Eyelid Surgery Before and After Photos
View more Eyelid Surgery before and after photos by Dr. L. Scott Ennis.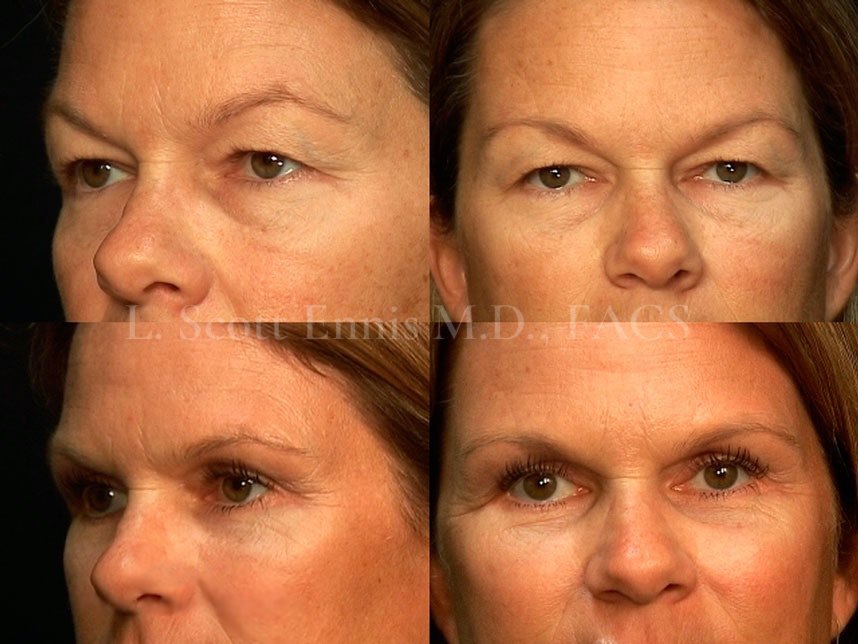 Blepharoplasty (eyelid surgery) Before and After
Blepharoplasty (eyelid surgery) Before and After


Double Eyelid Surgery Before and After, Actual Patient.
The Cost of Double Eyelid Surgery
As with any procedure, it can be difficult to pinpoint the exact cost for the operation. However, what may help you estimate costs is understanding what is included in the procedure.
Things to consider:
Will you be using anesthesia or just local sedation?
Are consultation fees and post-op services included
Will the operation be completed in an office or hospital?
What is the cost of living in the city where the procedure will take place?
What type of surgeon are you using? Is he/she an eyelid specialist or a general plastic surgeon?
All of these things will determine the overall cost of the procedure. Your personal patient coordinator will outline all costs prior to surgery.
Recovery from Double Eyelid Surgery
The average recovery period following a double eyelid surgery is about two weeks. While there is minimal pain involved, some bruising and swelling should be expected.
A few things will determine the speed of recovery:
Individual physical condition – People heal differently. Some people can have an operation and feel pretty much normal in a matter of days while other people respond differently and require a longer healing time. Generally, people have a sense of how well they heal after a surgery and
The amount of bleeding during surgery – The amount that you bleed during surgery will be an indicator of how much bruising you should expect.
How well you care for yourself – It's important to follow the doctor's orders of resting, icing, and elevating your head. Doing these things properly will ensure a faster recovery and less bruising.
Please take note that while the average recovery time is two weeks, it can take a person up to one year to be totally healed from the procedure. There is no way to pinpoint exactly how long it will take for any one person to recovery from double eyelid surgery. The process is as unique as the individual treated.
Potential Complications
While you certainly should expect quality results from an experienced plastic surgeon, there are potential complications that may occur.
The most common issues are:
Asymmetry (unevenness)
Loss of crease
Multiple creases
Scarring
Infection
Damage to the muscle
Dry eyes
Blindness
Double vision
To reduce your chances of complications, select a surgeon like Dr. L. Scott Ennis that is reputable and has substantial experience with this specific procedure. Remember, the end result will be determined by many factors including your age, physical condition, natural eyes, and the technique used for the surgery.
Overview on Double Eyelid Surgery
Double eyelid surgery is commonly used to correct the appearance of the eye. While it is generally a safe and painless recovery, there are a few factors that will influence the healing process. Be sure to research the procedure and select an experienced surgeon to perform your double eyelid operation.
Meet Eyelid Surgeon, Dr. L. Scott Ennis